How can you be exempt from taking the Praxis Core?
The required test for admission to the Reigh College of Education is called the Praxis CORE. Please note that some students are exempt from this requirement based on their SAT or ACT scores or if they have a bachelor's degree:
SAT & ACT Scores (for exemption)
New SAT after March 2016:
1170 or higher on the SAT combined Evidence-Based Reading/Writing and Math (Optional essay scores are not counted)
Old SAT before March 2016:
1100 or higher on the SAT combined Verbal and Math (Writing scores are not counted)

ACT:
24 or higher Composite score

NOTES
If students don't earn a SAT or ACT exemption composite score, they may still be exempt from one or two sections of the test:
Praxis CORE Reading and Writing exemption

Old SAT Verbal score of 550 or higher
New SAT Evidence-Based Reading/Writing score of 600 or higher
ACT English score of 24 or higher

Praxis CORE Math exemption

Old SAT Math score of 550 or higher
New SAT Math score of 570 or higher
ACT Math score of 24 or higher
NC State Board of Education Initial Teacher Preparation Program (EPP) Minimum Admission Requirements
*The old SAT Writing score is not considered in either the total SAT score nor is it a way to be exempted from the Praxis CORE Writing.
**ACT and SAT scores cannot be combined according to NC state policy.
How to sign up for the Praxis CORE test
Students should visit the ETS website to sign up http://www.ets.org/praxis/register and then select the nearest testing center, which in most cases will be the testing center at Appalachian in the JET building.
YOU MUST USE FIREFOX OR INTERNET EXPLORER BROWSER TO REGISTER.
The openings for these computer-based tests will be visible on the ETS website. Be sure to take note of the password and login information, and once you get your scores online, print a copy for your records.
Passing Scores
The passing scores on the Praxis Core are:
Test 5712 Core reading: 156 or higher
Test 5722 Core Writing: 162 or higher
Test 5732 Core Math: 150 or higher
North Carolina is currently accepting a composite score of 468 as a way to pass the Praxis Core. The composite score means that a student who might not reach the passing score in one area can make up for that gap by earning extra points in another subject area. If you do not pass
Caution: It is possible that North Carolina will change the policy to eliminate the composite score, but for now, they will accept the composite score.
Test re-takes: An examinee may take each part of the Praxis Core test once every 21 consecutive days. This policy applies even if the examinee canceled the scores on a test taken previously. A student can take each part of the test a maximum of six times in a twelve month period.
Below is how the tests are listed on the ETS site and the relevant test code(s).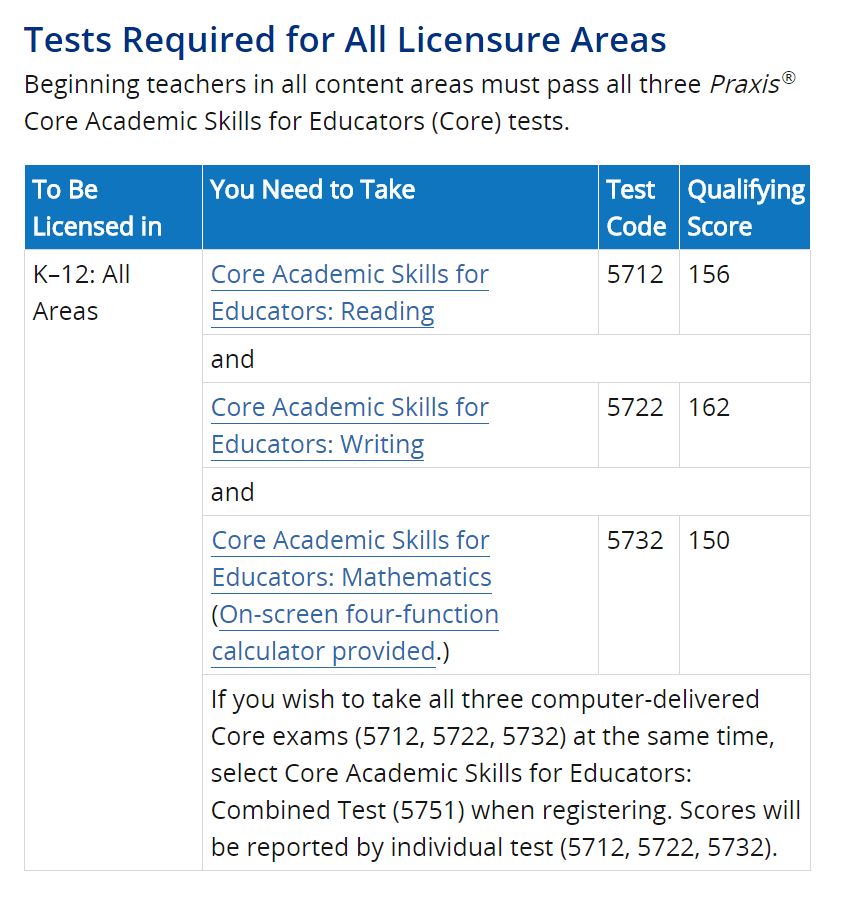 Study Resources
Visit our study resources page for campus resources, an interactive ASUlearn course, and more!