Welcome to The James Center for Student Success & Advising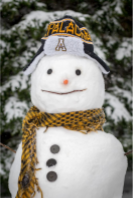 The James Center continues to serve students during the semester break and is operating remotely. Please click here for information on our Winter Break operations.
Coronavirus Update
In order to practice effective social distancing, the James Center for Student Success and Advising will now operate virtually during our normal hours of 8:00 AM to 5:00 PM, Monday to Friday. Overall, our goal during this time is to continue providing consistent, accurate, effective, timely, high-quality support to students. We will engage with students through whatever means they may have access to and do our best to connect them with whatever resources they may need to navigate these rapidly changing circumstances while continuing their academic success.
Academic advising continues via virtual walk-in hours and by appointment. Please visit the James Center Advising webpage for details. Please contact your assigned advisor with any questions.
Professional development offerings continue. Please check email, Engage, the James Center events calendar, and the Virtual Professional Development Newsletter (available via email and Engage) for details. Please contact Dr. Alicia Muhammad (muhammada@appstate.edu, 828-262-8914) with any questions.
Appalachian Community of Education Scholars and Transfer Educators RLC members will continue to receive communications via email. Please contact Megan Kasper (kaspermm@appstate.edu, 828-262-3168) with any questions.
To limit potential exposure, the Student Space is temporarily closed and printing is temporarily unavailable. Students who need to print can visit Belk Library to do so.
The Grant Dean Food Pantry is also temporarily closed to limit exposure. If you are in need of food assistance, please visit the Appalachian Food Resource Hub in East Hall; please contact 828-262-2659. Click here for information on additional food resources in the High Country community.
If you have any other needs, questions, or concerns, please contact Ike Smith (smithit@appstate.edu or 828-262-7171) and continue to visit our website for updates.
Please refer to the App State Coronavirus Information website for current, official updates from the university.
About the James Center for Student Success and Advising
The James Center, named after Steve and Judy James, is located on the first floor of the Reich College of Education.
The James Center for Student Success and Advising works to recruit, advise, provide professional development, and retain teacher education majors during their tenure at Appalachian State to ensure success for a career in education.
We invite you to explore our website and contact us if you have any questions or would like to get involved!